☰ < Open Menu
Exterior Paint Colors for Curb Appeal
V.A. and Sons Construction
- Serving Salem since 1996
✅ Transform Your Home's Curb Appeal with These Exterior Paint Finishes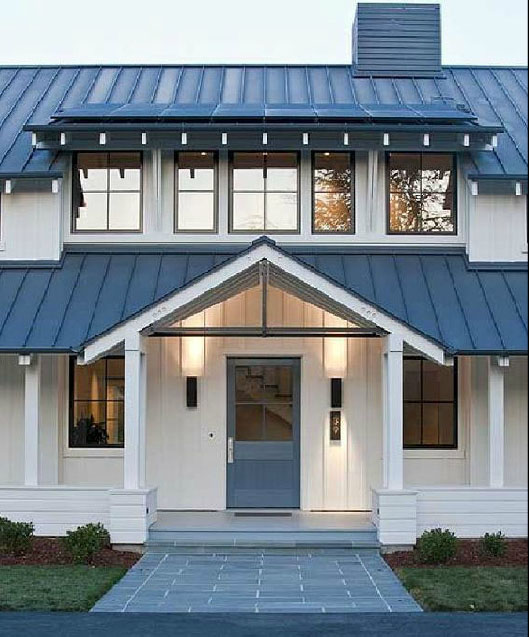 Choosing a new exterior paint finish can not only protect your home from the elements, but it can also enhance its curb appeal. When selecting a color, it's important to consider your home's architecture and style. Whether your house is a colonial, Tudor, Mediterranean, Victorian, or a cottage, there's an exterior paint color that can showcase its features and bring out its personality.

White is a classic choice that can work with any style of home. It provides a clean slate that you can accentuate with bold front door and window trim, landscaping, and hardscaping. Gray is another versatile option that can complement the best parts of your home's exterior. Whether you prefer a cool or warm undertone, gray tones can provide a sophisticated or dramatic look.

Green is a great color if you're looking for variety. With its many hues, it can give your home's exterior a traditional or modern feel. But be sure to consider the style of your home and the overall look and feel of your environment before choosing a shade. If you're planning to sell your house, be aware of current color trends, and ask a professional designer or a local paint store for recommendations.

If you want to add drama and interest to your home's plain exterior, consider painting it black. This can breathe new life into old and dated homes, and amplify their architecture. You can also use black as an accent color on doors, siding, and trim to create a bold statement.

For a safe and neutral option, choose an off-white paint finish that doesn't appear yellow in the bright sunlight. This can set the perfect backdrop for bold and bright shutters, doors, and trim. But be careful when painting existing brick, as this is not a decision you can walk back.

If you want your home to look cheery on the outside, a soft or buttery yellow can provide a warm and welcoming vibe. For a unique and dramatic look, try sunflower yellow with bright white trim and a mahogany stained garage. Don't forget to add pops of color from nature, such as boxwoods or hydrangeas.

Lastly, blue is a versatile color that can emphasize your home's architecture details and work well with many accent colors. Whether you prefer a deep blue or a softer shade, there's a blue that can wow you and enhance your home's curb appeal.

In conclusion, choosing the right exterior paint finish can make all the difference in enhancing your home's curb appeal. By considering your home's style and architecture, you can choose a color that showcases its best features and brings out its personality.
☰ < Open Menu