Redirect Siding Contractor Page
Estimates

V.A. and Sons combines years of siding installation experience, an excellent reputation, and top quality products to continue to meet or exceed our customer's expectations for their siding projects. Our Siding Navigation menu to the right will provide you with ideas and solutions for your siding project in the Salem Oregon area.

Check out information and links to our top product line and preferred vendors.

We provide the full range of siding solutions and help you to make an informed decision on what works the best for your needs and budget. We have experience with a large selection of the following types of siding solutions: James Hardie Hardieplank .

We also handle shake, window trim, corners and belly bands all made out of fiber cement. In addition to cement siding we can install masonry , brick, real stucco, cultured stone, and real stone. On house fronts and fireplaces, we also do tile, granite and marble.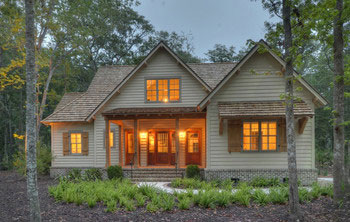 Green Siding - As more and more homeowners become focused on materials that are sustainable, this becomes  important in an element of a home that protects it from moisture, mold, and water damage, especially in a wet state like Oregon.
One manufacturer that developed the most popular form of siding – cement board – James Hardie continues to develop products that meet consumer needs for sustainability and protection. The featured product that we like is HardieBacker™, with MoldBlock™ Technology – that offers the most compressive and flexural strength available, while providing superior protection against moisture and mold damage. James Hardie products are as close to "Green" as you can get in a building material used for siding. The ingredients are easily renewable and they last longer than other products. The before and after pictures below show that Hardiplank siding can look just as good - or better, than wood.